Food franchises are booming across Pakistan's big cities as incomes swell and more women enter the workforce, leaving them with less time and inclination to fulfill the traditional role of cooking for the family. Almost two-thirds of the 200 million population are younger than 30 and cultural attitudes are changing in the Islamic Republic, helping make it the fastest-growing retail market.
 Eating out will soon become a "necessity over the weekdays," said Anwar, whose Crescent Star Foods Pvt. plans to increase its number of franchised restaurants, including California-based Fatburger, to 100 in a decade from less than a dozen. "Home-cooked food will become a luxury over the weekend."
Yum! Brands Inc.'s Pizza Hut also plans to double its Pakistan stores to as many as 150 over the next five years and will list locally in that period. Foodpanda, backed by Germany's Rocket Internet SE, expects to deliver meals to 2 million hungry Pakistanis each month by 2021 from about 400,000 now.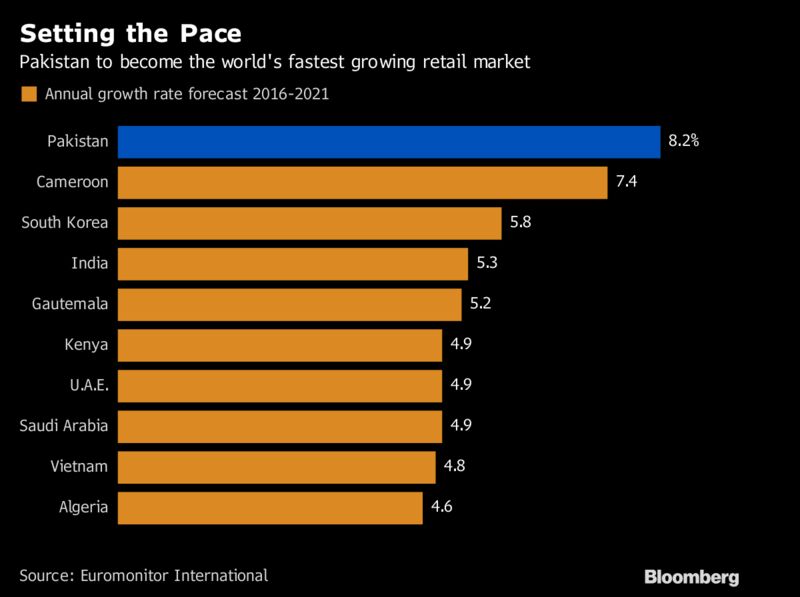 The country's food delivery industry will more than double to $2 billion by that time, said Nauman Sikandar Mirza, Foodpanda's chief executive officer.
More Money
Disposable incomes have doubled since 2010 and about 40 percent of household expenditure is on food. That's more than Indonesia and Turkey, according to data from the U.S. Department of Agriculture. Spending in Pakistan is bolstered by the lowest interest rates in 44 years as the pace of inflation has halved since 2014.
"Pakistan has one of the youngest populations in the world and the increase in fast food retail along with other retail segments partly reflects the stabilizing economic backdrop," said Rahul Bajoria, a senior economist at Barclays Plc in Singapore. "Similar trends are being observed in the rest of South Asia as well."
"The market is growing, people have more money to spend on fast food — we plan to open more outlets," said Omar Qadri, chief operating officer at One Potato Two Potato, which has about 50 restaurants with most in Pakistan's main cities of Islamabad, Lahore and Karachi. "We are still not in a lot of places like Peshawar, Multan. These are big markets we haven't even entered yet."