Construction on the 720 megawatt Karot power station being built on Jhelum river began in December 2016 and looks set to finish nine months ahead of its December 2021 completion date, a first for a Pakistan hydro-project said Qin Guobin, chief executive officer of the state-owned China Three Gorges Corp. South Asia Investment Ltd. The company has put in place an aggressive strategy to cut the project's financing costs.
"For us, Pakistan is a strategic market," Qin said at the site. "If we managed to complete it earlier we can save financing costs and make it more competitive."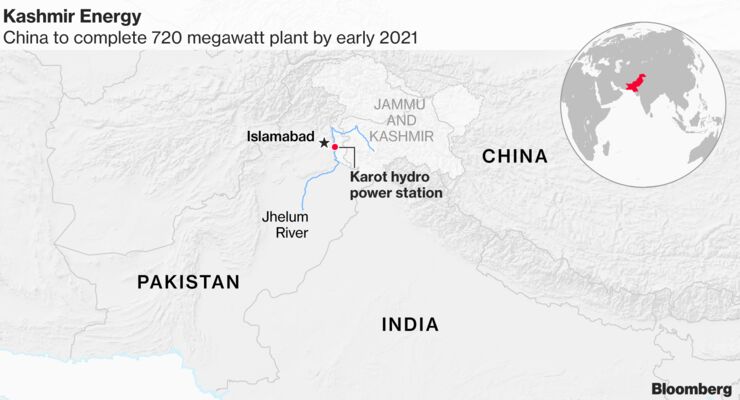 Pakistan's energy demand is expected to grow by 6 percent to 35,000 megawatts by 2024 as its population of more than 200 million people grows along with the economy. For more than a decade, it's been struggling to overcome daily power shortages that have left industry and residents in the dark.
Economic Corridor
China has stepped in to meet some of those shortages, financing projects worth more than $50 billion in an economic corridor that runs through Pakistan. The route is part of Chinese President Xi Jinping's 'Belt-And-Road' plan to connect Asia with Europe and Africa with a web of ports, railways and highways links for trade.
Three Gorges' focus in Pakistan is clean energy and it has a $6 billion portfolio in three hydro and three solar power plants. The Karot hydro-power project is in the Pakistan-administrated part of Kashmir, which India and Pakistan both claim and have fought two wars over since independence in 1947.
India's foreign ministry said its views on "Pakistan's illegal occupation" of Kashmir is "a matter of record." "We have objected, they have proceeded nevertheless," said G. Parthasarathy, a former Indian high commissioner to Pakistan. "This has been going on since the 1960s and 1970s, when they built the Karakoram highway" that links Pakistan with China through the disputed territory, he said.